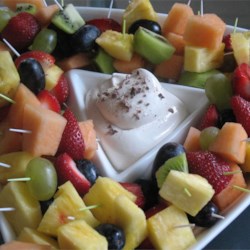 Ingredients:
8 oz package of cream cheese, softened
8 oz container of sour cream
1/2 cup brown sugar
1/3 cup coffee liquor
8 oz frozen whipped cream topping
Directions:
1. In a medium bowl, combine cream cheese, sour cream, brown sugar, and coffee liquor. Blend until smooth.
2. Fold in whipped topping until just mixed.
3. Chill in refrigerator for at least one hour.
4. Serve with your favorite fruit!